A Guide to Vehicle Modifications for People with Disabilities
Special vehicle modifications for people with disabilities can help keep you on the road. Here's a comprehensive guide to help properly equip your vehicle.
People with disabilities can have specialized vehicle modifications installed in their cars. These modifications keep drivers with disabilities on the road and create more accessible vehicles. Common modifications include seat belt adjustments, safety bars and straps, ramps, swivel seats, and hand controls.
Table of Contents
Types of Car Modifications and Adaptive Equipment
There are many options when it comes to adapting and modifying a vehicle. From chair lifts to hand controls, there are modifications for nearly every need.
Accelerators and Pedal Modifications
There are many accelerators and pedal modifications to assist people with disabilities. These modifications can help:
Increase range of motion for people with limited mobility
Allow people to use their left foot instead of their right foot to control the petals
Extend the pedals for those whose legs are unable to each
Assistance Straps and Amputee Rings
To help drivers with entering or exiting the car, assist straps are a worthy option. These devices strap around a vehicle's window frame through a front or back door. Drivers or passengers can then use these straps to pull themselves up and out of the vehicle.
Assist straps are only to be used before the vehicle is started. They must be removed from the frame before driving begins.
Amputee rings are another form of simple car modification. They are designed for drivers with below-elbow amputations. The rings clamp onto a steering wheel. The driver then attaches their prosthetic to the wheel for steering.
Hand Controls
Hand controls allow drivers to control the vehicle's acceleration and braking with just their hands. Controlled by a hand lever, these mechanical systems attach to the foot pedals. Typically, these controls are operated by the left hand. The right hand steers, shifts, and operates the car's other systems.
There are many styles of hand controls:
Push-pull systems

work by pushing or pulling a lever to brake or speed up.

The Right Angle system

is similar to standard push-pull controls. It differs in that the pulling motion has been replaced with a right-angle turn. This makes it easier to move the handle.

Push-rock levers

are designed for drivers with little to no use of their fingers. When the driver pushes the handle forward, the vehicle brakes; when he rocks it backward, the vehicle accelerates.
Ramps and Wheelchair Lifts
Ramps and lifts are perfect for drivers that use wheelchairs and scooters. As the name suggests, these devices will lift and secure a mobility device inside or onto the vehicle.
There are both occupied and unoccupied lift systems.
Occupied systems

are designed to lift mobility devices that the person doesn't leave. In these systems, the mobility device is secured onto the lifting platform with manual or automatic tie-downs. The driver then controls the lift to bring the device and driver into the cabin and ready to drive.

Unoccupied systems

include hoists and platform lifts. Hoists keep the mobility device locked on the outside of the vehicle. Once attached to the hoist, the wheelchair or scooter is lifted off the ground. It's then secured on a rack or platform on the back of the vehicle. These are often used for scooters or for drivers who wish to keep their car's interiors free of their mobility devices.
A similar system is used with ramps and docking systems. Instead of using a lift to bring a device and driver into the car, the mobility device is driven up a ramp. There, it then locks into the docking station. These systems are often used with power-operated wheelchairs. They can then act as a standard vehicle seat once secured in place.
Seat and Seat Belt Adjustments
Adaptive seat modifications can be used to assist drivers in and out of a vehicle. Powered transfer seats can swivel, rotate, and lift in many directions. This allows drivers to easily transfer into their seats. Some seat adaptations will even extend out of the vehicle and allow a driver to easily get into the seat. Then, they retract the seat back into the vehicle and the driver is ready to go.
There are options for people with limited ability to transfer out of a wheelchair. Wheelchair restraints and docking systems can secure the wheelchair to the floor of the vehicle. Once secured, it is locked in place like a standard car seat.
Seat belt adjustments are also popular. They include torso restraints and lap belts for extra safety.
Steering Wheel Adjustments and Knobs
There are many steering adjustments that make it easier and safer for a person with disabilities to drive.
Steering knobs:

These range in size, shape, and design to suit any need. Common styles include spinner knobs that easily fit in the hand and allow for a gentle grip to steer the wheel. Modified knob styles include pins, handles, and palm grips.

Lightened power steering:

This makes the steering wheel easier to turn and helps to reduce pain and fatigue when steering. These systems work well in tandem with other devices, such as steering knobs or handles.
There are also complete steering system redesigns. They can include foot-operated steering wheels, joysticks, and even acceleration/brake control. These systems can be customized to a drivers' comfort and their specific abilities, but they are often the most expensive option.
Average Costs of Adaptive Devices and Vehicle Modifications
Adapted vehicles allow people with disabilities to drive with improved safety and comfort, but some of these systems can be pricey. In fact, it can cost upwards of $80,000 for a new, adapted vehicle. There are assistance programs that can help reduce these costs, but it is beneficial to look at the various options for each system. A driver will have to determine which modifications work best for their driving situation.
Larger modifications, such as lifts and ramps, will always cost the most — sometimes more than $30,000. But many drivers will be able to use cheaper devices, such as steering knobs and specialized seat cushions. These assistive devices will make their vehicles accessible and safe to drive for under $100 in some circumstances.
It is also important to keep in mind the continued costs associated with vehicle modifications. The added weight to the car will increase the wear and tear on the tires. Routine car maintenance will help ensure the vehicle is in top shape and that the modifications are functioning as intended.
| Modification | Price |
| --- | --- |
| Accelerators and pedal modifications | $100-$1200 |
| Assistance straps | $10-$50 |
| Amputee rings | $80-$400 |
| Hand controls (push-pull devices) | $150-$1500 |
| Scooter and wheelchair lifts | $1500-$4000 |
| Scooter and wheelchair ramps | $500-$30,000 |
| Seat belt adjustments | $30-$400 |
| Seat adjustments | $10,000 |
| Steering wheel knobs | $10-$300 |
Disclaimer: This data is an average of available products from a variety of manufacturers. It is meant to give an idea. Every person, vehicle, and specific accessibility need will be unique. As such, expect the cost of equipment and installation to vary based on the manufacturer, item need, or even the type of vehicle involved.
Manufacturer Discounts and Rebates for Adaptive Equipment
Fortunately, there are plenty of manufacturer discounts and rebates for adaptive equipment. Many vehicle manufacturers offer up to $1,000 reimbursement for the installation of adaptive equipment. Meanwhile, different equipment manufacturers can provide similar rebates on the equipment itself.
Those looking for adaptive equipment should shop at a medical equipment provider. These vendors often participate in Medicare and Medicaid and work with state programs that provide financial help for assistive technology.
Alternatively, used equipment is often much cheaper than new. Many programs and tools exist to help people find the specific equipment they may be looking for. But, as with any second-hand equipment, buyers must do their due diligence. Often, warranties won't carry over to a new owner. Be sure to have any piece evaluated by a professional before purchasing. And make sure the items work with your existing vehicle.
What Cars Are Best for Vehicle Modifications?
When looking for an adaptable car, there are plenty of specific details to consider. The vehicle should be able to handle the extra weight and capacity of the modifications. Additionally, a new vehicle should already come with many standard accessibility features. These include dashboard-mounted ignition, omni-directional seat adjustment, and entry/exit support handles.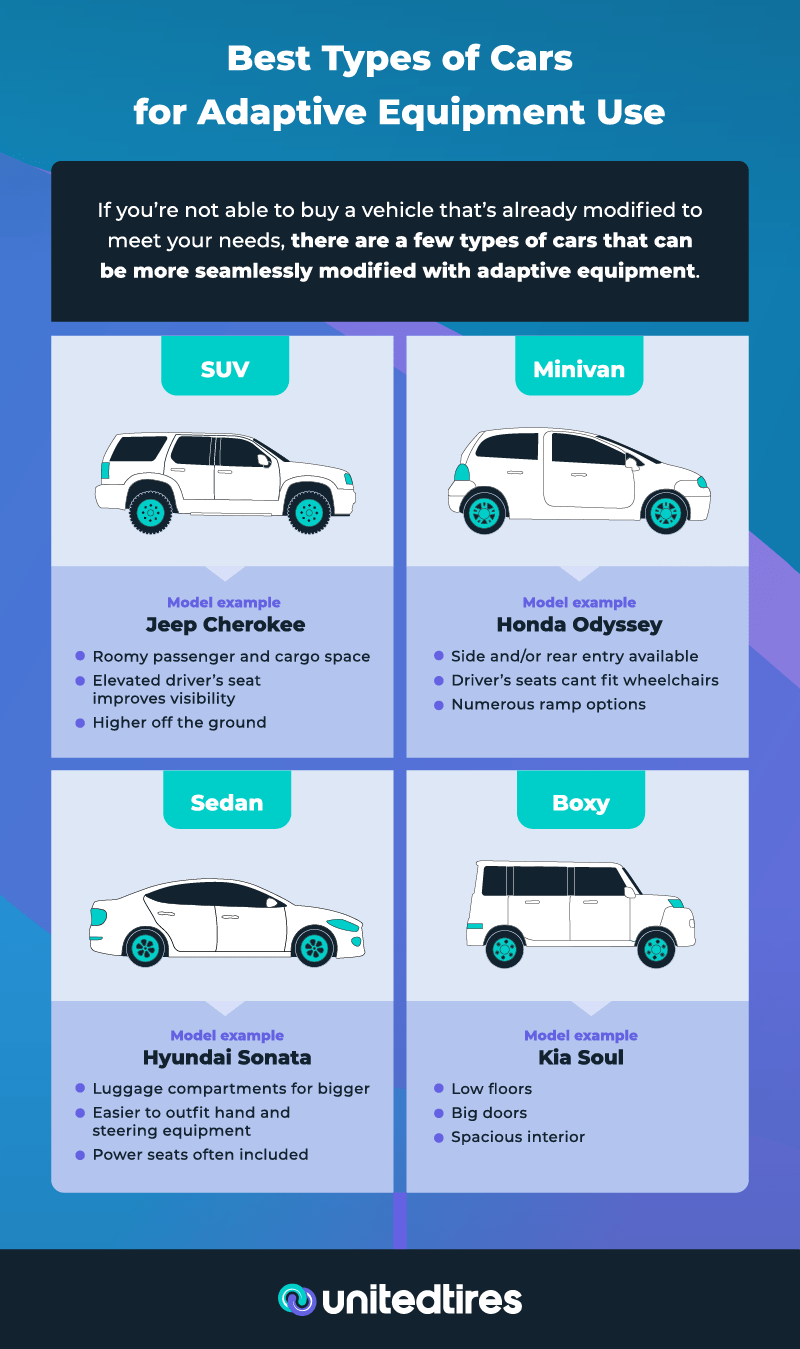 The following makes and models are considered great options for drivers with disabilities. Their unique specifications make them ideal for adaptive equipment.
Honda Odyssey: The Odyssey is a reliable and affordable option to begin with, but it makes a great adaptability choice due to the ease with which it can be modified.

VMI Honda Odyssey:

Designed specifically for drivers with disabilities, the Vantage Mobility Odyssey features an in-floor ramp, spacious interiors, and a lowering suspension, among other details.

Ford Mustang:

For those looking for a bit of fun with their ride, the Mustang is a great choice. It is easily able to support carriers, lifts, and power-assist seating.

Chevrolet Silverado:

Able to easily handle the weight of modifications, the Silverado is a fine choice for an adapted vehicle. Its cab doors open wide to allow easy entrance, and the bed makes a great spot for a wheelchair lift.

Jeep Grand Cherokee:

Strong and robust, the Grand Cherokee can be outfitted with lifts, power seats, and driving devices. The Grand Cherokee also supports running boards, and installing them can provide a $400 refund.

Scion xB:

Though currently out of production, 2004-2006 Scion xB makes a great adapted vehicle. These model years can be fitted with a rear-mounted wheelchair ramp. Additionally, it readily accommodates lifts, steering devices, and hand controls throughout.

Subaru Forester:

The Forester can be modified at the factory for hand and foot controls. And, since it's a compact SUV, it provides a sturdy and spacious platform that isn't too big or difficult to get into.

Hyundai Sonata:

Though it is a sedan, the Sonata is a safe and comfortable ride. Full of tech and easy to enter, it provides an accessible and affordable vehicle.

Toyota RAV4:

Able to be factory modified for powered lift seats and rear lifts, the RAV4 is a study, compact SUV.

Lexus RX:

The Lexus RX is a full-size luxury car. Spacious and easy to get into, it also features ample tech assistance.

Kia Soul:

A boxy SUV, the Soul has a high ceiling and wide doors, making it great for easy entry and comfort. They also tend to be cheaper than other car models.
Should You Modify Your Existing Vehicle or Buy a New Vehicle?
It's becoming more and more workable for people to modify existing vehicles. Still, there's an appeal to buying specialized vehicles or trading in your old car for a model that's better suited for upgrades.
A new vehicle will allow you to incorporate the exact modifications you require, tailored to your specific needs. By shopping for a new (or new to you) vehicle, you can ensure that it will be large and strong enough to fit the equipment you need. The downside of purchasing a vehicle is the price.
Alternatively, you can adapt your existing vehicle to meet your needs. This is typically cheaper since you don't need to purchase a new car. However, there are some downsides. Not every car is suitable for all adaptive systems.
If your car isn't suitable, trading in an existing vehicle can offset some of the expense. If money isn't a factor, consider recycling or donating your old car — especially if it has existing modifications that another person with disabilities could make use of.
You can also look at other cost-saving steps, such as purchasing used tires. Used tires from reputable sources can save you money. And those funds can be better used on modifications.
Ultimately, the choice will come down to each person's needs.
Requirements for Getting an Adapted Driver's License
Once you have a vehicle that is adapted and ready to drive, it's time to get your license. But, it is a more involved process than the standard path to a driver's license.
Meet with your primary care doctor.

Your doctor will give you a physical to ensure you meet the health and ability requirements needed to operate an adapted car.

Work with a driver rehabilitation specialist.

This professional will examine the car and the adaptations to ensure they are safe and proper. They will also evaluate the driver to ensure they have the necessary skills needed to drive, such as dexterity and range of motion. If all goes well, the specialist will sign off and you'll be allowed to start practicing driving with your adaptations.

Meet state requirements.

Much like any new driver, the next stage of training and education varies state by state. Each area will require a certain amount of classwork and on-road training hours. But, as long as your physician and driver rehabilitation specialist have agreed you are able to drive, you will be able to begin training to be a driver.
A disability is not a legal reason to deny a person a license. By starting with a physician and rehabilitation specialist, you prove that you have shown the necessary ability to drive a car. Of course, depending on your disability, you might be granted a restricted license. These restrictions can require corrective eyeglasses must always be worn. Other hearing-alternative car alerts can be installed.
If all of these are met and training is passed, you will be well on your way to becoming a driver.
Find a Driver Rehabilitation Specialist
Once you and your physician have determined you are able to drive, you'll need to work with a driver rehabilitation specialist. These individuals will test the driver and the adapted vehicle. These evaluations look at many factors, including:
Coordination
Dexterity
Range of motion
Vision
Reaction time
Psychological health
Ability to use and understand adaptive equipment
The specialist will work with the individual to ensure their vehicle, equipment, and abilities are suitable and working.
These specialists work with people of all needs, ages, and disabilities. To find an evaluator, look in the national databases that list all accredited specialists.
How To Register for a Driving Evaluation
Once you've ensured that you and your vehicle are ready for the road, you must take a driving evaluation. Registering for an evaluation starts with searching for a specialist. Each will have different processes for registering.
During the evaluation, the driver will be tested on their ability to both drive and use the adapted equipment in the vehicle. This includes reaction times and decision making, as well as vision and other physical abilities.
The specialist will often suggest adaptive solutions that will make you a better driver. This can range from wheelchair lifts to electronic driving systems. Based on the equipment used, evaluations can take between three and eight hours.
Car Insurance Laws and the Americans with Disabilities Act (ADA)
Any discrimination against people with disabilities is illegal. The Americans with Disabilities Act ensures that insurance companies cannot deny car insurance because of a disability or due to the use of adaptive equipment.
The ADA has been in place since 1990. Since then, it has protected people with disabilities. In addition to protections against discrimination in the area of insurance, the ADA prohibits discrimination based on disability in the following areas:
Employment
Government positions
Public accommodations
Commercial facilities
Transportation
Telecommunications
With that being said, some disabilities will affect insurance rates and amounts. While the disability itself won't cause a price increase, the needed modifications to the vehicle may. For example:
Wheelchair lifts and ramps add value to the vehicle, increasing insurance premiums.
Drivers with vision and hearing impairment may be considered to have added risk, which can increase premiums.
Drivers who are prone to epileptic or fainting episodes may be considered a higher risk.
How To Get Car Insurance for Adaptive Equipment
Getting car insurance as a person with a disability is nearly the same as a person without a disability. Premiums will be influenced by any verifiable risks and any changes in vehicle value that the disability or adapted modifications bring.
Aside from this, the process is the same. Be sure to shop around for the best rates. Look for discounts or rebates offered for driving modified vehicles.
Car Insurance Discounts for People With Disabilities
In addition to rebates and discounts for modifications, there are other ways to save on insurance costs. All drivers should shop around before purchasing insurance. Different providers will offer different rates and premiums; so, naturally, the best insurance provider for you will vary depending on your needs and other factors, with or without a disability.
In most cases, car insurance will cover adaptive equipment. This includes after-market additions and other modifications needed to drive. Insurance can also cover temporary transportation if your main vehicle is being serviced. Additionally, some car insurance will cover any specialized non-vehicle equipment damaged in a car accident. This can include wheelchairs and scooters.
Financial Assistance for Adapted Vehicles
Equipping a vehicle with adaptive equipment can be expensive. And not everyone will qualify for discounts, rebates, or even insurance coverage. In that case, there are options for financial assistance to cover the costs of equipment.

State Grants
State grants are one way for people to receive the funding they need for an adapted vehicle. Every state will have different authorities and grant sources, so it is important to do the necessary research. However, most grants come from ADA centers, disability foundations, and other statewide disability councils.
These grants often provide direct funding to cover some or all of the necessary upgrade costs. Grants can even cover the cost of an entire vehicle.
Qualifying needs are determined by the grant providers. Not everyone who applies will qualify or be selected. But, as grants are gifts and have no repayment terms, they are compelling opportunities for extra assistance.
Medicare, Medicaid, and Other Financial Assistance Programs
Aside from grants, there are several other options for financial assistance. Medicare Part B and Medicaid can both cover vehicle modifications. The modifications have to count as durable medical equipment. Individuals and vehicles are subject to an initial evaluation to ensure the equipment is medically necessary. This can be corroborated with physicians' prescriptions and other documentation.
Medicaid is run at a state level, so each state will have different subcategories and allowances for different financing needs. Be sure to look at your state's specific rules.
VA benefits can also cover vehicle modifications. To be eligible, individuals must have a disability related to their military service. In addition, other specific conditions must be met, including:
Loss, or permanent loss of use, of one or both hands or feet.
Permanent decreased vision in one or both eyes
A severe burn
ALS
Ankylosis in knees or hips
VA benefits provide up to $21,488.29 to buy a specially-equipped vehicle. There are also extra grant opportunities for further modification. This includes lift equipment and power steering.
Finally, there are state-based financial programs to help individuals with disabilities. State vocational rehabilitation agencies often provide vehicle modification assistance. This assistance is usually through grants and loans.
Resources for Drivers With Disabilities
Equipping a vehicle with adaptive modifications is a personalized process. Many questions will arise during the process. Fortunately, there are many resources to help drivers with disabilities. The following sources are full of information.
There are many options for modifying your vehicle to fit your needs. If you're unsure, use these resources to help guide the process.