If you are looking to buy tires made in USA, you should know that most foreign global tire manufacturers already have plants in America. In fact, there are only two genuine American brands: Goodyear and Cooper. The largest foreign tire companies with plants in the US include Michelin, Pirelli, Continental, Bridgestone, and Yokohama. However, to make sure you buy USA tires, you should make sure they were made in the USA-based plants.
[insert page='2137′ display='content']
How to Identify Tires Made in USA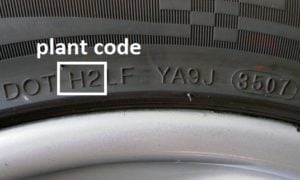 You can learn where a tire was made by looking at its DOT code. You will see the Tire Identification Number (TIN) after the letters DOT. The first pair of letters and/or numbers is the plant code. You can check the code with the help of this list.
Some tires also have "Made in USA" (or another country) molded onto their sidewall.
NOTE: Pay attention that plant codes don't use the following letters: G, I, O, Q, S, and Z. They look very much like the numbers 0, 1, 5, 2. As the code is usually in compact bold letters/numbers, authorities removed these letters to avoid confusion.
NOTE: According to the US Government Publishing Office, new three-symbol plant codes will become mandatory from April 13, 2025. Until that time, manufacturers can use both two- and three-symbol codes for their convenience.
Tires Made in USA: All-American Brands
All-American brands are the those created in the USA and not purchased by foreign companies or merged with them. For example, BFGoodrich was bought by the French manufacturer Michelin, and Firestone is now part of the Japanese brand Bridgestone. Although such brands can still be called American, they now belong to foreign companies. Despite this, even used Bridgestone tires are often used in other countries.
[insert page='1887′ display='content']
Goodyear Tire & Rubber Company

Goodyear Tire & Rubber Company was founded by Frank Springfield in 1898. The company has passenger, commercial, light truck, SUV, racing, and other types of tires made in USA and overseas. The company was named after Charles Goodyear – the inventor of vulcanized rubber, which became a breakthrough in tire making.
Goodyear runs 48 facilities in 21 countries worldwide, including 17 USA-based facilities. The company also owns about 1,100 tire and auto service spots, in addition to tire retreading centers and plants. The manufacturer earned the title of the world's largest tire company twice – in 1916 and 1999. According to the official website, the sales make up over $15 billion every year. This is not counting the used Goodyear tires. If you want to learn more about the Goodyear tires, read this post.
Goodyear USA Tire Plant Codes
M6 – Lawton, Oklahoma.
MB – Akron, Ohio.
MC – Danville, Virginia.
MD – Gadsden, Alabama.
MJ – Topeka, Kansas.
MK – Union City, Tennessee.
MM, PJ – Fayetteville, North Carolina.
MN – Freeport, Illinois.
MP, PL – Tyler, Texas.
Goodyear Subsidiaries
The main sub-brands of the company and their location-oriented specializations are:
Cooper Tire & Rubber Company

Cooper Tire and Rubber Company's started in 1914 in Akron, Ohio. The company merged from M and M Manufacturing Company and The Giant Tire & Rubber Company. Both were purchased by the same people in 1914 and 1915 respectively. The company got its modern name in 1946.
The conglomerate manufactures automobile, light and medium truck, motorcycle, racing, and other types of tires. They have over 60 facilities worldwide, including the subsidiaries. The plants and technical centers of the company are on three continents. The main centers are situated in Findlay (Ohio, for the tires made in USA), Melksham (England), and Kunshan (China).
Cooper is the 5th largest tire company in North America and the 12th in the world. According to the manufacturer's official website, the total revenue is approximately $3 billion (as of 2016).
Cooper and Apollo Types of India
In 2013, Cooper Tire and Rubber Company was planned to become a part of Apollo Tyres of India for $2.5 billion. This means Cooper wouldn't be an all-American tire brand anymore, leaving Goodyear to be the only one.
Circumstances made the companies cancel the deal, keeping Cooper one of the two genuinely American brands that have tires made in USA mostly.
Cooper USA Tire Plant Codes
3D – Albany, Georgia.
U9 – Tupelo, Mississippi.
UP – Findlay, Ohio.
UT – Texarkana, Arkanzas.
Cooper Subsidiaries
The company's sub-brands and their tire type-oriented specializations are:
Top-5 Foreign Companies Owning Facilities in USA
The largest tire manufacturers offering tires made in USA are:
Michelin
Pirelli
Continental
Bridgestone
Yokohama.
Michelin

Michelin (Michelin North America in USA) is a France-based tire manufacturer that started its USA activity in 1950. They make tires for passenger vehicles, motorcycles, bicycles, heavy-duty trucks, farm equipment, and planes. The company has facilities in the following states:
Alabama
Indiana
North Carolina
Ohio
Oklahoma
South Carolina.
The conglomerate owns 68 plants in 17 countries, including 19 facilities in 16 North American locations.
Michelin also owns the following tire brands:
BFGoodrich
Kleber
Kormoran
Riken
Tigar
Michelin USA Plant Codes
To find Michelin tires made in USA, search for these plant codes (without subsidiaries):
4M, M3 – Greenville, South Carolina.
B6 – Spartanburg, South Carolina.
B7 – Dothan, Alabama.
B9 – Lexington, South Carolina.
To find plant codes of the subsidiaries of the company, you can use the this list.
Pirelli

Pirelli is an Italy-based tire manufacturer that is a subsidiary of ChemChina – a Chinese enterprise. They manufacture passenger, used SUV tires, light-truck, classic car, prestige car, and racing tires. When the company was self-standing, the New York stock exchange included it in 1929. Thus, Pirelli became the first Italian commercial company to be present in USA. More intense activity in America started when Pirelli bought Armstrong Tire in 1988.
Overall, Pirelli owns 19 plants in 13 countries, and a network of about 10,000 distribution spots in 160 countries. At the moment, even used Pirelli tires are a very good choice for a car.
Pirelli USA Plant Codes
To find tires made in USA by Pirelli and Armstrong Tire Corporation, search for the following plant codes:
CH – Hanford, California.
CK – Madison, Tennessee.
JR – Rome, Georgia.
Continental

Continental AG is a Germany-based tire and auto part manufacturer, making tires for automobiles (passenger, truck, commercial, etc.), motorbikes, and bicycles. The USA business expansion started when Continental bought General Tire and Rubber Company in 1987.
They manufacture tires in the following states:
Georgia
Illinois
Kentucky
Michigan
North Carolina
Ohio
South Carolina
Texas.
Continental USA Plant Codes
To identify tires made in USA by Continental and General Tire, search for these facility codes:
6B, A3 – Vernon, Illinois.
A9 – Bryan, Ohio.
AC – Charlotte, North Carolina.
AD – Mayfield, Kentucky.
VY – South Sumter, South Carolina.
Bridgestone

Bridgestone Corporation is a Japan-based tire manufacturer, the largest in the world (as of 2015-16). The company provides passenger, off-road, commercial, truck, motorbike, bicycle, and other types of tires. Their presence in USA was established in 1967, when the creators founded Bridgestone Tire Company of America. Thus, they could track and improve sales in America.
In early 80s, the corporation purchased the Firestone plant in Tennessee. This was the first one of Bridgestone in North America. Later, in 1988, they bought the whole company, increasing manufacture facilities in USA dramatically.
Bridgestone USA Plant Codes
If you need tires made in USA at Bridgestone and Firestone plants, search for the following codes:
0B, W2, Y2 – Wilson, North Carolina.
1C, HY – Oklahoma City, Oklahoma.
2C, 4D, 5D – Morrison, Tennessee.
2M, 3M – Bloomington, Illinois.
7X, 8X, 9X – Graniteville, South Carolina.
8B, VE, YE, YU – Des Moines, Iowa.
D2, E3, W1, Y7 – Lavergne, Tennessee.
YD – Decatur, Illinois.
Yokohama

Yokohama Rubber Company is a Japan-based tire manufacturer, a joint establishment between BFGoodrich and Yokohama Cable Manufacturing. They produce passenger, light-truck, high-performance, commercial, and off-road tires. The company got its modern name during the USA business expansion in 1969. Yokohama have two plants in America: in Salem, Virginia, and in West Point, Mississippi (cheap truck tires manufacturing).
Yokohama US Plant Codes
When searching for tires made in USA at the Yokohama plant, look for this code:
NOTE: Some of the aforementioned facilities may have closed. Make sure to check before using the data.
The Difference Between American-Made and Foreign-Made Tires
There is usually no difference if talking about domestic and foreign facilities of one brand. Since tire brands control their production in all countries, the results are the same, according to Modern Tire Dealer. The companies supply their facilities with the materials, manufacturing technology, and equipment equally. Specialists conduct the same tests with the same standards.
However, every company has its own techniques of achieving a certain tire feature. So, if you compare tires made in USA by different manufacturers, you will definitely find differences.