Ishibashi Shōjirō (石橋正二郎) made Bridgestone Tires by founding the company in 1931 in the Japanese city of Kurume (in the Fukuoka prefecture). Bridgestone manufactures tires for all kinds of vehicles, including sports cars, SUVs, and trucks. The name of the company comes as a translation of the founder's family name – Ishibashi. It means "stone bridge" in Japanese, so after a transposition, the "Bridgestone" name is derived.
Bridgestone is the largest tire manufacturer in the world, renewing its title year by year.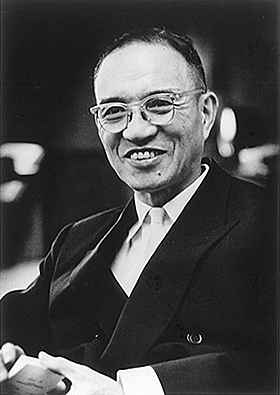 Who Made Bridgestone Tires: More on Shōjirō Ishibashi
Ishibashi Shōjirō (石橋正二郎, family name first; 1889-1976) was a Japanese businessman whose most notable achievement was the founding of Bridgestone Corporation. However, this wasn't the only thing he created. Some others include the Ishibashi Cultural Center and the Bridgestone Museum of Modern Art. The latter became a valuable contribution to the Tokyo National Museum of Modern Art and Ishibashi funded the construction of the building.
The man who made Bridgestone Tires also wrote a motto for it: "Serve society with superior quality".
Where Bridgestone Tires Are Made/Global Presence of Bridgestone Tires
The Bridgestone Group owns more than 180 plants in 26 countries worldwide. Besides, over 150 countries have official dealerships where one can choose Bridgestone tires for their needs. Aside from Japan, the company is present in other countries in Asia, as well as Europe, the Americas, the Middle East, Africa, and Oceania. You can find the regional websites and the map at the official global website of the company.
There are 48 plants that manufacture tires and another 28 are responsible for other tire-related procedures, such as retreading. 19 facilities process raw materials for the to-be-made Bridgestone tires, while almost all the other locations are usually called "diversified product plants". Some of the facilities owned by the company are also proving grounds and technical centers.
Bridgestone Group Ties with the Americas
The roots of the Bridgestone US expansion lie in the acquisition of the Firestone Tire & Rubber Company in 1988. The price of $2.6 billion turned two tire companies in the largest tire manufacturer worldwide. After the merger, the headquarters of Bridgestone/Firestone were moved to Nashville (Tennessee) from Akron (Ohio). Today, Bridgestone Americas is a large group of enterprises that owns 52 plants that provide work to over 50,000 people.
The Canadian market also made Bridgestone Tires and Firestone operations unite in 1990. Three years later, the Crown tire business was also acquired, and soon after that the local branch of Bridgestone/Firestone became Bridgestone Canada, Inc.
NOTE: The Canadian branch isn't fully owned and controlled by Bridgestone Americas, Inc.
Bridgestone American Plants' DOT Codes
The DOT (Department of Transportation) plant code is a 2-3-symbol combination identifying the exact facility that manufactured a particular tire. You can find the code by looking at the tire sidewall.
YD – Decatur, Illinois.
2M, 3M – Bloomington, Illinois.
8B, VE, YE, YU – Des Moines, Iowa.
0B, W2, Y2 – Wilson, North Carolina.
1C, HY – Oklahoma City, Oklahoma.
7X, 8X, 9X – Graniteville, South Carolina.
2C, 4D, 5D – Morrison, Tennessee.
D2, E3, W1, Y7 – Lavergne, Tennessee.
If you want to know more about the American tire manufacturing facilities and how to recognize them, read this article. Also, you can learn more about the DOT code and other numbers on a tire sidewall from this article.
Bridgestone Tires Brands
Here are the specialized brands of the company, which made Bridgestone Tires popular in different spheres of tire usage:
5 Best Bridgestone Tires of 2017
The best line-ups that made Bridgestone Tires the leader in recent years include:
Winter performance tires – Blizzak LM.
High performance summer tires – Potenza RE.
Fuel-efficient tires – Ecopia EP.
SUV/Crossover All-season tires – Dueler H/L.
Motorcycle Sport Touring tires – T30.
Blizzak LM
These tires provide excellent performance in winter: traction on snow and ice, as well as hydroplaning and low temperature resistance. However, they also work well on dry surfaces, which is a great advantage for a winter tire. Their only disadvantage is high pricing, but they provide superb comfort and safety for that money.
Potenza RE
These tires offer superior performance on dry streets and track at the expense of wet road handling. They provide less driving comfort and braking capabilities, as well as more noise. However, Potenza RE made Bridgestone Tires the top label in a tire survey's extreme performance summer category.
Ecopia EP
These tires save about 5% of fuel, which makes them environmentally- and financially-friendly. This comes at the expense of grip, as the tires' braking distance is longer and wet performance isn't the best. However, the main aim of the lineup, which is reducing rolling resistance and saving fuel, is achieved. Different internal structure and rubber compounds are the major contributing factors to that goal.
Dueler H/L
These tires provide adequate grip and handling throughout the year and considerable tread life with an 80,000-mile warranty. Although this is an all-season tire, ice grip may need improvement. However, all the other factors of performance for a heavy-duty vehicle are excellent.
T30
These motorcycle tires offer superior wet surface performance, adequate dry grip, and great handling/cornering capabilities. New rubber compounds made Bridgestone tires of the T30 line more temperature resistant, allowing driving at higher speeds with the same level of ride quality.