All-terrain tires are used for traction on all kinds of surfaces, including on and off-road. They combine the open-tread design of off-road tires with the good handling of street tires. It's important to remember that as this type of tires is all-purpose. So, it's not the best option for people who drive only on highways and paved roads or only off-road.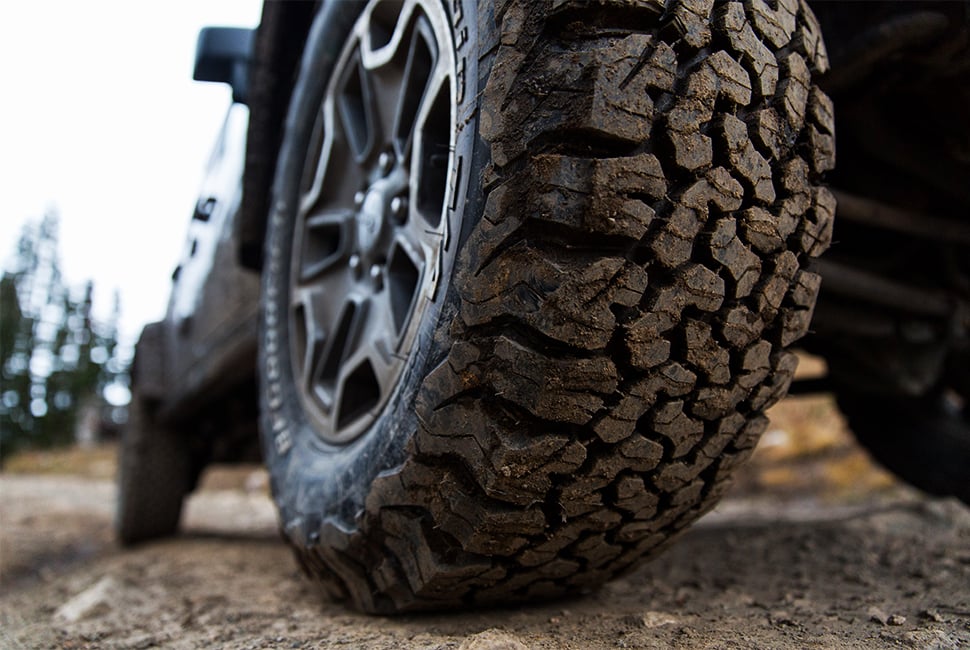 Features of All-Terrain Tires
This type of tires has its advantages and disadvantages.
Pros
Open-tread design.
This design improves the traction of the tires on off-road surfaces. There are many interlocking tread elements that provide a good grip on rocks and mud, as well as adequate handling on paved roads.
Reinforced sidewalls.
Reinforced sidewalls are present on some models of all-terrain tires, providing more load carrying capacity. These are usually more aggressive tires made for heavier trucks and more off-road use. Campers also often use reinforced all-terrain tires, as these vehicles have a greater load to carry and therefore use rugged terrain tires.
All-year operability.
As all-terrain tires are considered all-purpose, they also provide traction on snowy and icy surfaces. If regular adequate performance is enough for your car, you don't have to change from used summer tires to winter tires. However, winter tires still have an advantage over all-terrain due to their tread pattern and rubber compounds.

Image source: fourwheeler.com
Cons
Noise.
The tires are noisier than regular all-season tires due to the tread design. Mud, off-road, and all-terrain tires have block tread patterns that make a louder noise. Such tires usually have rather symmetrical grooves, while best touring tires have many different types of patterns. This makes the air going through them sound differently, but mostly the air flows cancel each other, creating less noise.
Shorter tread life.
The softer rubber of the tires means a shorter tread life, though it isn't lower than the average of 40,000 miles. Such compounds help all-terrain tires provide adequate performance on all surfaces. There are more long-lasting models of tires with a mileage of 50,000-70,000.
Proneness to cupping.
All-terrain tires are prone to cupping due to their design, as the more aggressive the tire is, the more it may cup. The main cause is usually insufficient control by the shock absorbers. Check them every once in a while and make sure to rotate your tires every 6,000-8,000 miles. Also, pay attention to the worn elements of the wheel and tire balance. If you need to learn more on tire rotation and balance, read this post.
Lower fuel efficiency.
All-terrain tires rank in the middle in terms of fuel efficiency, as regular street tires use less fuel, and off-road tires use much more. Mechanical friction, wind and rolling resistance, and tread patterns all influence the economy. Rolling resistance could be eliminated with stiffer sidewalls and almost no tread, but the latter would also eliminate the traction.
Vehicles That May Need All-Terrain Tires
There are certain types of vehicles that may need such tires:
Light trucks.
Light trucks often run on both on- and off-road surfaces, and they carry heavy loads. While regular used LT tires will handle the load, for the best on-/off-road performance all-terrain tires will fit better. The average load capacity of a light truck is 4,000 pounds or less.
Pickup trucks.
Pickups also go on- and off-road, although these carry a larger load of 6,000 pounds or less. Such vehicles are often used to transport goods or to travel, and both purposes may include driving in mud or rock for some time.
SUVs.
SUVs can work with all-terrain tires as well, as there are many models of such tires with different ply ratings. This means they are of different load indexes. SUVs are in the same load capacity class as pickup trucks, so there are plenty of choices. However, you should mind the purpose of your ride before choosing between all-terrain, SUV, and street tires.
Campers.
Campers need all-terrain tires or off-road tires of bigger sizes, up to 37 inches. Stiffer sidewalls and rather aggressive tread are also advantages for such vehicles. The reason is that they have to carry not only the vehicle, but the trailer, handling mud, rock, and often snow.
4-wheel drive cars.
Regular vehicles may also gain an advantage from all-terrains if the car goes off-road a lot. It's important to remember that the tire has to match or beat the speed rate and load index specified by the automaker. The size also has to match the wheel perfectly, as well as the aspect ratio. Hence, to match all-terrain tires on a regular 4-wheel drive car, you may need different wheels, so the height of the tire doesn't interfere with the performance of the car.
All-Terrain Vs. Other Types of Tires
All-Terrain Vs. Highway All-Season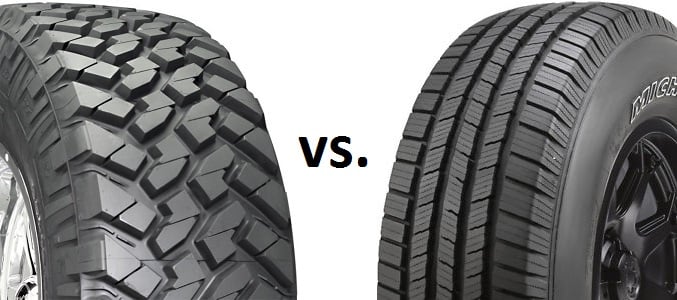 All-terrain tires obviously outperform all-season when driving off-road. However, on streets and highways, all-season tires provide more comfort. The tests include driving on highway and country roads, concrete, patched asphalt, etc. on different speeds.
All-Terrain Tires
All-terrain tires show an adequate performance with a bit more noise and a little more time to perform the turning and braking. They are suppler when it comes to minor sharp impacts. However, on continuous bumps and multiple impacts, all-terrains start to jitter more than well-controlled highway all-seasons. Fuel efficiency is also less in AT tires, with an estimate of 681.8 gallons per year.
All-Season Tires
All-season tires are less noisy, deal with bumps well, and provide more handling on turns and brakes. They provide better grip on dry street roads due to the special characteristics of tread pattern and rubber compounds. Wet surfaces show a little more difference between the tires, as the all-season tires provide better handling on straight wet surfaces. Fuel efficiency is also better than that of AT tires, with an estimate of 660.8 gallons per year.
All-Terrain Vs. Winter Rated Vs. Winter Tires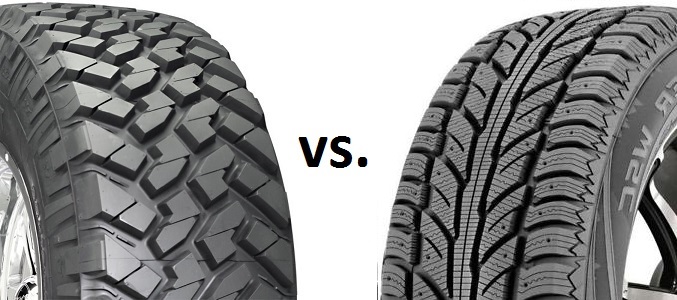 Winter/snow tires are the best for use in winter conditions. In second place are winter-rated tires, and in the third – all-terrain tires. The main difference is the specialization of the tires and rubber compounds from which the items are manufactures.
All-Terrain Tires
All-terrains will provide you with sufficient grip and performance on snowy and icy roads. However, in temperatures colder than 7-10 C, the tire's performance may become worse due to the compounds that suppose warmer weather use. The braking tests on snowy surfaces from 40 mph showed AT tires need 56 meters to stop. However, if winter isn't severe and the roads are relatively clean in your city, all-terrains will provide you with enough handling. Besides, you will not have to change the tires when spring comes.
Winter-Rated Tires
Winter-rated AT tires have rubber compounds that are more suitable for use in winter. Their performance is just a little bit worse that of the winter tires. However, they offer only mediocre performance on snowy and dry surfaces. Braking tests showed that these tires need 39 meters to stop completely.
Winter Tires
Winter tires will provide you with excellent performance in snowy and icy conditions. They remain pliable in extremely cold temperatures. However, once the weather becomes warmer, the tires' performance will deteriorate, as they don't fit such conditions. According to the braking test, best snow tires come to a dead stop from 40 mph in 28 meters.
All-Terrain Vs. Mud-Terrain Tires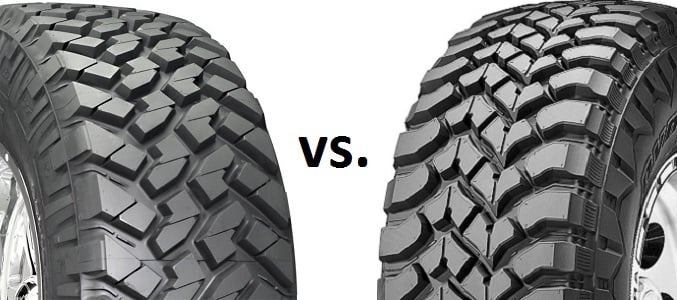 All-terrain tires are better for dry and wet pavement, snow, and sand. Mud-terrain is better for canyon bottoms with rocks and sand, Moab (a popular wheeling destination), dry and wet clay, and mud.
 All-Terrain
All-terrain tires have their tread blocks closer, providing more contact with the pavement. Siping of the blocks helps the tires flex and provide better grip. Besides, they are less noisy, which is an advantage when you are driving along the street. The sipes assist the AT tire to bite into snow better, improving its performance in winter. They also help handle sandy surfaces, as the rubber will flex a bit and grab the sand to roll.
ATs consume less fuel due to lower rolling resistance. So if you have to go on the same surface for a long time, you will notice an advantage.
Mud-Terrain
Mud-terrain tires have more space between the blocks, allowing the vehicle to go where AT tires can't. Canyon bottom with fallen branches and rocks will not be a problem due to the huge tread blocks. However, mud-terrains will dig into the snow or sand, which will make the ride rather problematic.
However, when it comes to Moab, mud-terrains are a better choice. Although there is a combination of paved roads, silkrock, and sand, where ATs would be better, there are also many rocks and other obstacles. There are also steep slopes where mud-terrains will perform much better.
Mud also calls for mud-terrain tires, as they self-clean due to the tread pattern, while all-terrain tires will become packed with mud. Dry and wet clay also needs more digging provided by the mud-terrains.
Should I Go All-Terrain?
All-terrains will be the best choice if you drive equally on paved roads and off-road surfaces. The main factor to consider while choosing the type of tires for your car is their purpose. If you drive more on the streets and highways, going off-road for minimal periods of time, consider touring tires. And if you drive more off-road and hardly go on the streets, consider off-road or cheap SUV tires. Besides, there are many more things to consider when buying tires.
Remember that if you want to go all-terrain, you may need to upgrade your vehicle to fit these tires. Light trucks, pickups, and SUVs may not need any upgrades, but if you own a regular vehicle, consider some. You may need new wheels, suspension parts, etc. to make the vehicle perform at its best with all-terrain tires. It's also necessary to find the right tires for this purpose, so it is worth paying attention to brands that specialize in off-road tires such as Fuel.
TOP-5 All-Terrain Tire Brands
The best AT tire manufacturers are:
BFGoodrich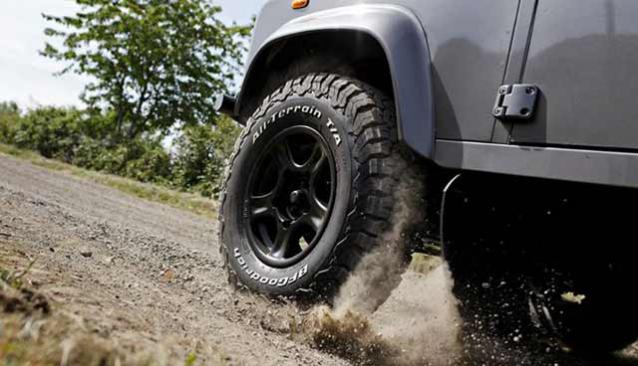 The most famous all-terrain tires lineup of BFGoodrich tires is KO2, the successor of the highly popular KO. The tires were manufactured to meet all the requirements of pickups, SUVs, and jeeps. They combine improved traction on any surface and better durability.
The BFGoodrich KO2 have a special rubber compound that prevents cuts, chips, and tearing of the tires. They provide 15% more durability on asphalt, and up to 50% more on gravel. The sidewalls of the tires are also 20% stronger in this lineup.
According to the manufacturer, KO2 all-terrain tires provides a 10% raise in mud and a 19% raise in snow grip. The latter gives the tires the Mountain Snowflake symbol. The tires also perform well on the highways, providing wonderful stability, steering, and traction.
Cooper Tire & Rubber Company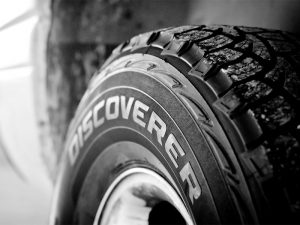 Cooper's most outstanding all-terrain lineup is Discoverer. The tires may seem quite mediocre when a driver uses them for the first time, but the benefits become evident soon enough. While they don't bite into mud or sand a lot, they perform great on wet surfaces. The tires corner well in both dry and wet conditions. They work well on trucks, so if you want a softer ride, adjust the speed and you will get it.
Discoverers are also less noisy that most other AT tires, which adds to the comfort of your ride. The durability of the tires is considerable, both on the rocks and pavement, but it's necessary to check it after a couple thousand miles. The look of these all-terrain tires may be their disadvantage, as they look rather street friendly.
Toyo Tires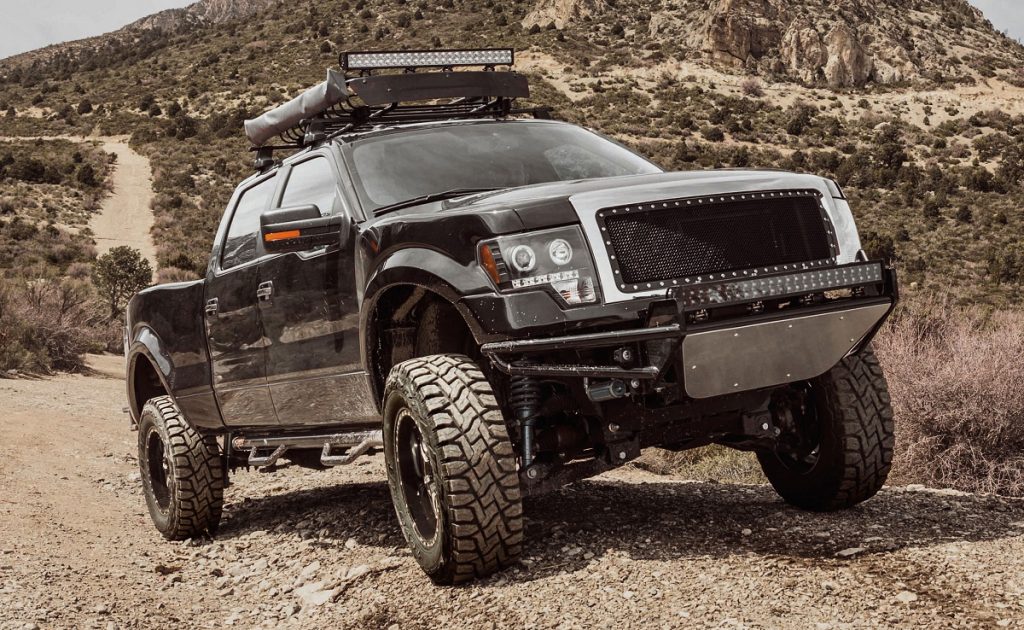 The most popular Toyo lineup is the Open Country that includes all-terrain tires. They provide all-season performance, considerable on- and off-road capabilities, including performance in light snow. The second generation of the AT tires deliver 40% better durability, providing a 65,000-mile warranty.
The tires offer very soft and quiet rides on the road and stable cornering. They don't hydroplane in standing water and improve fuel economy by at least 1 mpg. However, after the first 10,000 miles, the tires may start to feather a little bit.
Open Country tires also work well off-road, avoiding rocks puncturing the tread and cleaning themselves in mud. They pack a little, as mud-terrain tires are the best for mud surfaces, but the performance is still good. The tires work better on packed snow than in deeper fresh powdery snow. On rocky surfaces, though, they are quiet and very efficient, providing constant grip. They also handle sand, keeping the wheels on the top no matter how they are maneuvered.
Dick Cepek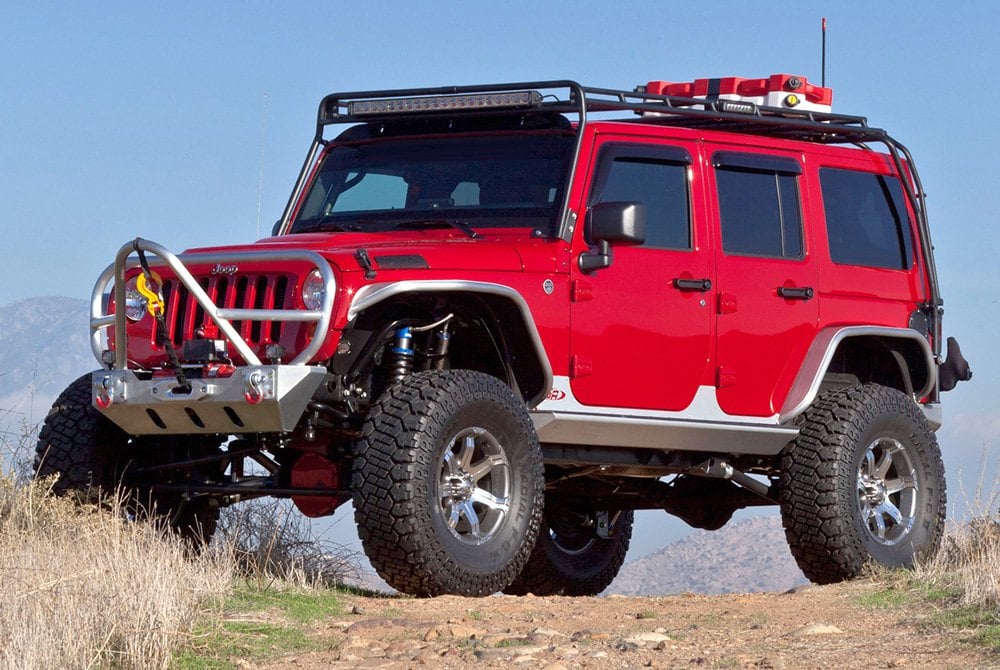 The best of Dick Cepek for those who like on- and off-road adventures is the Fun Country lineup. These tires are somewhere in the middle between all-terrain tires and mud-terrain tires. In brief, they are AT tires with better traction and durability.
The lineup provides many regular and specialized sizes of radial tires that keep traction even on snowy surfaces. The symmetric tread design is 18.5/32" deep with wide blocks that provide grip on all terrains. The grooves prevent stone drilling of the tread with special Stone Kickers in the outboard lateral grooves.
The appearance of the tires is rather aggressive, and the performance matches the looks. Sidewalls provide more protection and help keep traction on loose terrains. Ultra-thin sipes as deep as the tread help preserve the tires' grip all year long.
Goodyear Tire & Rubber Company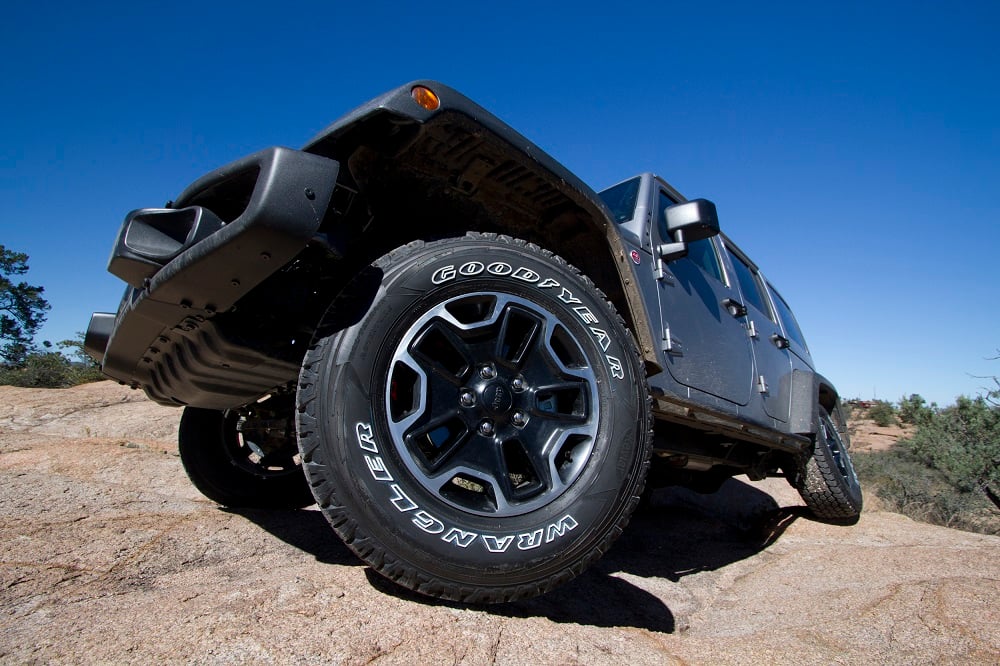 One of the most outstanding off-road and all-terrain tires lineups of Goodyear is Wrangler. The AT tires provide a 60,000-mile warranty with standard load indexes and LT sizes. They will meet the requirements of those who own 2- and 4-wheel drive pickups and SUVs who seek sufficient on- and off-road performance. The tires provide good traction on-road with sufficient handling. Off-road surfaces, including mud and snow are also not a problem.
The manufacturer adds tough rubber compounds to the Wranglers to combine aggressive looks, excellent performance, and low noise. Durability and ride quality are enhanced due to the internal construction of the tires. They include twin high-tensile steel belts and cord body made from polyester. The AT tires are also self-cleaning due to Traction Lug Channels structure.