Where To Recycle Tires + State-by-State Disposal Fees
You may have heard of a tire disposal fee for every new set of tires purchased. Here, we'll explain the types of disposal fees and where to recycle tires.
In 1909, there were fewer than 306,000 registered cars on the road. By 2021, the number was just shy of 297 million — 970 times as many. And those millions of cars go through millions of tires every year: Automobiles produce about 263 million waste tires annually in the United States alone. But how should those tires be properly disposed of?
We'll explain where to dispose of tires and the associated tire disposal fees.
Table of Contents
Tire Landfill Bans by State
Over time, many U.S. states have implemented landfill tire bans due to the amount of tire waste accumulation in landfills and the toxic chemicals they contain.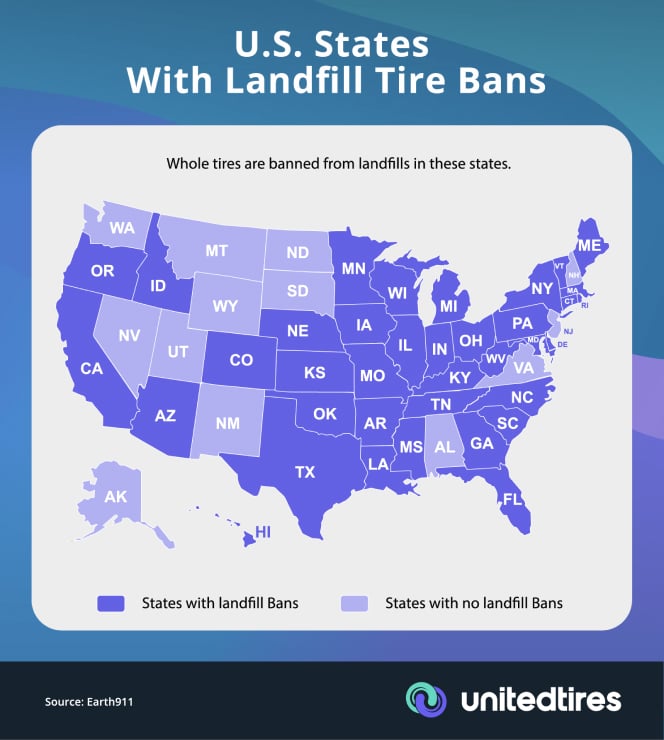 How To Recycle Tires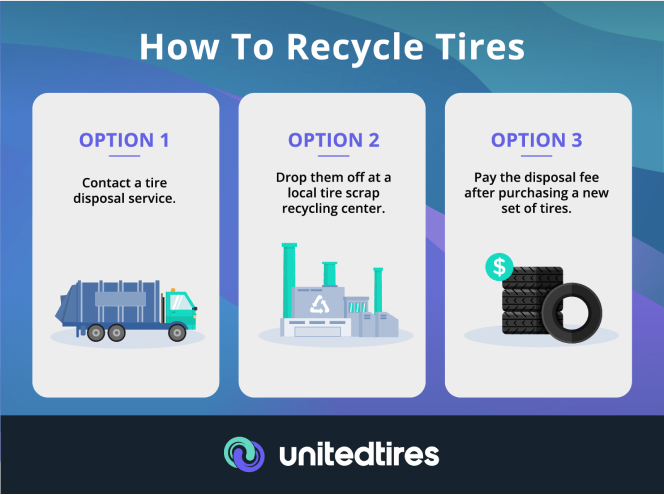 Recycled tires can be used for things like rammed earth construction materials, for earthquake proofing, and in other civil engineering projects such as asphalt mixes for road construction, wall fillings, and bridge abutments.
As much as half of all the recycled tire mass in the U.S. is used in the production of tire-derived fuels. Those fuels can be used in boilers, thermal power plants, and the cement, paper, and mining industries.
Other tire material is used in accessories for cattle, the production of footwear, as highway crash barriers, or in floor mats. That welcome mat outside your front door might have been rolling down the highway in a previous life.
But in order to get your old tires to that point, you have to get them to a recycler. Here are some ways to do so:
Contact a Tire Disposal Service
You can contact a tire disposal service to pick up your old tires and have them taken away to a recycling center. You may have to pay a recycling fee for them to pick up your tires and haul them away.
Drop Them Off at a Local Tire Scrap Recycling Center
You can contact and go to a tire recycling center yourself and drop off used tires, old tires, new tires, trailer tires, truck tires, and replacement tires. Such collection sites typically require permits to operate, and some states place restrictions on the height of each tire pile, the distance between them, drainage conditions, and the distance from property lines.
You can use Earth911 to find a local tire scrap recycling center. Dial 1-800-CLEANUP, or search the material you are recycling along with your ZIP code.
Any type of tire can be dropped off at a local scrap tire facility. But as with pickup services, there may be waste recycling fees to drop them off.
Pay the Disposal Fee After Purchasing New Tires
If you are buying a new set of tires from a tire dealer, you can expect to pay a state tire fee and a tire disposal fee, which cover the cost of having a tire disposal service take care of your old tires for you. For every sale of new tires, there will be a tire fee from any tire retailer or tire manufacturer.
Types of Disposal Fees
Disposal fees and tire recycling programs vary from state to state, and they often depend on the size of the tire or the size of the vehicle. Some states leave the collection of those fees to the retailer. As of 2018, Hawaii required that retailers charged a fee, but left how much they charged to the seller's discretion.
The fees go by many different names, such as waste tire recycling fee, tire fee, or waste management fee. These all serve the same purpose.
Tire Disposal Fee
This fee covers the cost of a licensed tire disposal service to dispose of your old tires properly. It allows a waste tire management disposal service to take your old tires and bring them to a tire recycling facility for disposal.
State Tire Fee
This fee, also called a new tire fee, is charged for every new set of tires purchased. It's levied by the state in which you purchase your tires, so it can vary from one jurisdiction to another. The fee typically goes toward funding recycling programs that reduce the number of stockpiled scrap tires.
These fees are not prohibitive. In general, they range from $1 to $5 per tire, depending on the state, with larger tires at times carrying heavier fees.
Many states adopted tire regulations in the late 1980s and early 1990s. In the South, for example, 14 of 15 states have systems to track waste tires from their point of generation to their end use. Most also have mobile tire waste processors, and many encourage voluntary forfeiture of waste tires through amnesty days, on which they can be delivered without penalty.
Here's a list of state tire fees by state:
List of State Tire Fees by State
State
Fee per New Tire Sold
Alabama
$1 per tire
Alaska
$2.50 for each new tire, plus $5 extra for each studded tire
Arizona
2% of the retail price of the tire, up to $2 per tire
Arkansas
$2 per new car tire plus $3 for each new truck tire with a 20-inch rim or larger
California
$1.75 per tire
Colorado
$1.25 per tire
Connecticut
$2 per tire
Delaware
$2 per tire
Florida
$1 per tire
Georgia
$1 per tire
Hawaii
$1 surcharge per tire imported to the state, paid by importers
Idaho
None (illegal dumping subject to $500 fine)
Illinois
$2.50 per tire
Indiana
$0.25 per tire
Iowa
Retailers have the option of charging a fee
Kansas
$3 per tire
Kentucky
$2 per tire
Louisiana

$2 per tire weighing less than 100 pounds

$5 per tire for each medium truck tire

$10 per tire for each off-road tire

Maine
$1 per tire
Maryland
$0.80 per tire
Massachusetts
None specific, but "best practices" are recommended
Michigan
Scrap Tire Program is funded by a $1.50 vehicle title transfer fee
Minnesota
None; retailers may charge a "reasonable fee for tire disposal"
Mississippi

$1 per tire with a rim size less than 24 inches

$2 per tire with a rim size greater than 24 inches

Missouri
$0.50 per tire
Montana
None
Nebraska
$1 per tire
Nevada
$1 per tire
New Hampshire
None, but towns may charge for disposal
New Jersey
$1.50 per tire
New Mexico
$1.50 per tire
New York
$2.50 per tire
North Carolina

2% disposal tax on the total cost of the tire with a rim size of 19.5 inches or less

1% disposal tax on the total cost of the tire with a rim size of more than 19.5 inches

North Dakota
None
Ohio
$1 per tire
Oklahoma

$2.90 per tire with a rim size is between 17.5 and 19.5 inches

$5.50 per tire with a rim size greater than 19.5 inches

Oregon
None
Pennsylvania
$1 per tire
Rhode Island
$5 per tire
South Carolina
$2 per tire
South Dakota
$0.25 per tire, not to exceed $1 per vehicle, on vehicle registration at the county level
Tennessee
$1.35 per tire
Texas
None; retailers can charge a fee, but it doesn't go to the state
Utah
$1 per tire
Vermont
None
Virginia
$0.50 per tire
Washington
$1 per tire
West Virginia
None. "The retailer may charge a disposal fee to cover the actual costs of lawful waste tire disposal."
Wisconsin
Various local jurisdictions have their own fees, such as a $5 fee per tire with a rim size less than 24 inches in Janesville and a $5 fee in Madison.
Wyoming
None
This isn't the whole picture, though. In Wyoming, for example, the Laramie Landfill charges a landfill disposal fee of $4 each for auto and light truck tires, $10 for heavy truck and light industrial tires, and $75 for heavy equipment tires.
What Happens to Recycled Tires?
Tires wear out and have to be replaced. But what happens to them then?
Maybe you tied one to a rope and a tree branch to make a swing when you were younger, or perhaps you used an innertube for snow sledding. That's one form of tire recycling, but there are many other options today.
Tires turned in for recycling are often shipped to a commercial reprocessing plant that breaks them down into materials that can be reused for rubber-modified asphalt. The remaining rubber materials can be used on playground surfaces, in landfill construction, on sidewalk or road pavements, and in running tracks at high schools, junior highs, and other athletic venues.
If they're not recycled, tires may be dumped in a landfill, where they slowly decompose (although tires can last hundreds of years). Or they may be burned for tire-derived fuel.
Overall, more tires are being reused than ever before. In 2017, more than 4 in 5 tires, or 81%, were being recycled, compared to just 11% in 1990. But that still leaves 16% sitting in landfills, with others being burned at poorly equipped facilities, which release pollutants such as chlorine and zinc into the atmosphere.
Environmental Impact of Old Tires
There are different types of tires, some of which use a lot more rubber than others. Some tires are recycled or upcycled, but that isn't always the case.
12 million tires per year are converted into ground rubber and used in rubber-modified asphalt.
3.9 million tons of waste tires are generated per year in the U.S.
43% of scrap tires are used for tire-derived fuel, 25% are used for ground rubber, 16% are disposed of in landfills, and 8% are used in civil engineering.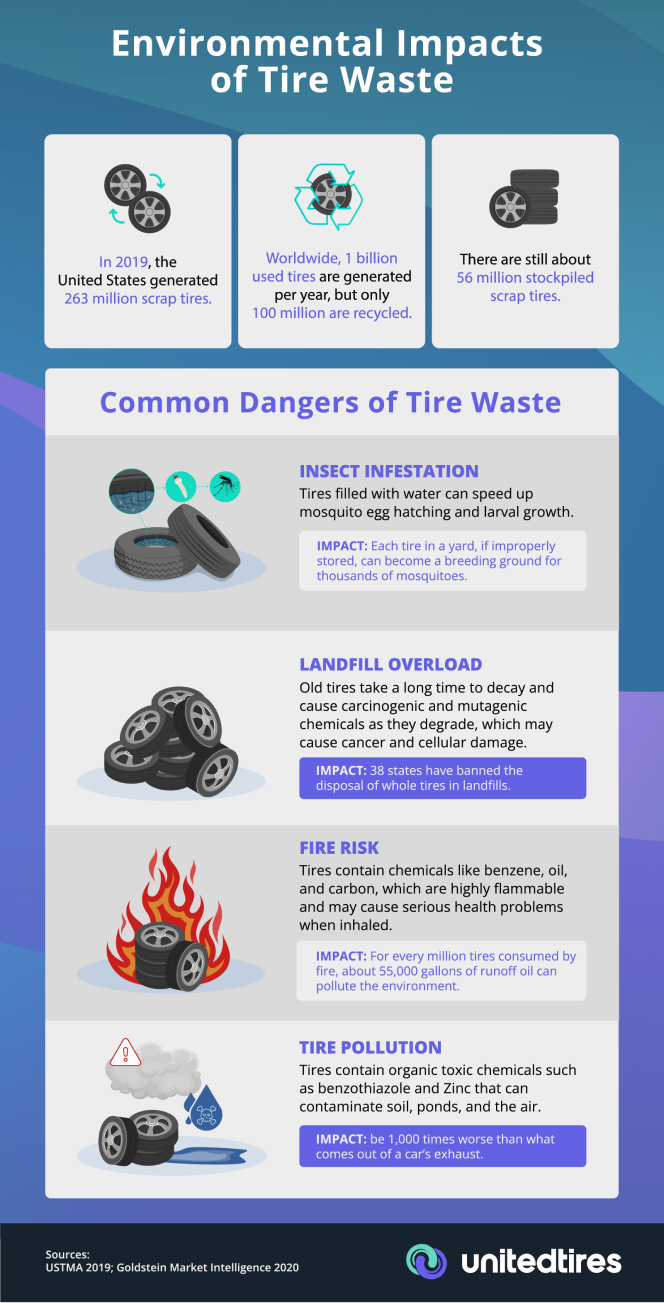 The EPA classifies waste tires as solid waste. Tire accumulation can create health and environmental challenges such as landfill buildup. Tires can take a long time to decompose: The South Carolina Department of Natural Resources has estimated that it can take 2,000 years for tires to return to nature.
But landfills aren't the only problem. Tires pollute the environment in ways we can't always see, creating challenges such as air and water contaminations before they're even off the road. According to a 2019 report, air pollution from particles produced by tire wear can be 1,000 times more harmful than car exhaust fumes.
During their lifetime, passenger tires on light trucks shed nearly 2.5 pounds of rubber, a 2013 report found. That tire waste can find its way into waterways, lakes, ponds, and the ocean. It can get stuck in shrimp gills and ball up in their stomachs, creating chronic health problems.
Tire stockpiles can also serve as ideal breeding grounds for mosquitoes. And tires are also flammable, and though they aren't easy to ignite, they are notoriously difficult to extinguish, and release toxic fumes from hazardous compounds like oil, gases, and heavy metals into the air as they burn. Water often does little good in attempting to douse a tire fire and is often better used for watering down adjacent tires to keep them from burning.
A couple of massive tire fires illustrate the extent of the potential damage. A 1999 tire fire caused by a lightning strike in Westly, California, took 30 days to extinguish at a cost of $3.5 million. Smoke emissions created health problems across the area, and oil from the tires flowed down a slope and into the drainage system.
In 1983, 7 million tires burned in Rhinehart, Virginia, creating a plume of smoke 3,000 feet high and 50 miles long, covering three states. It burned for nine months and polluted water sources in the area with arsenic and lead.
Can You Sell Old Tires?
The short answer is yes, you can. Rather than hauling your old tires to a landfill, you can offer your vehicle tires for resale if the rubber and tread are still in good condition. There are a few ways, including the following:
Contact local tire retailers

. Many tire dealers sell used tires that still have life in them, and some deal exclusively in pre-owned tires.

Look for retreading facilities or shops

. Remolded tires can be up to 40% cheaper than new tires, plus they require much less oil than new tires do, making them environmentally friendly. So in addition to turning your old tires in at such a shop, purchasing retread or remolded tires can be a means of helping the environment.

Use online sites

such as eBay, American classifieds, and Craigslist to set a price and advertise your used tires for sale.
It may cost you a little bit to get rid of your old tires, but it's not a major cost, and the fee you pay will help the environment. It's important to know what to expect, though, and how to be safe on the road no matter which tires you choose.